Frische-Safe "WINDOW" presenting freshness in the best light
FRISCHE-SAFE-
Until the fridge, the customer should see that he has bought freshness and quality.
On the back side:
A specially developed paper, a touch of foil inside and outside a special treatment for water resistance, technically highly-qualified combined in one unit.
On the front side: A highly transparent film, environmentally friendly and puncture-proof- together add up all the required properties in one product:
High penetration- and tear-resistance, waterproof from inside and outside, airtight, odor-proof, highest standards of insulation, perfect presentation and environmentally friendly without aluminum.
Further technical information see in our article Passport
Benefit for you


Image and thereby also reducing packaging costs. The fresh produce presents itself perfectly packed and environmentally friendly.
FRISCHE-SAFE is available with your own CI up from 70 rolls. There are nearly no limits to creativity: white or natural brown paper - no problem. The reverse side of the paper can be printed photo-realistic up to 6 colors. The company- or brand-logo on the film gives a link to the quality product directly.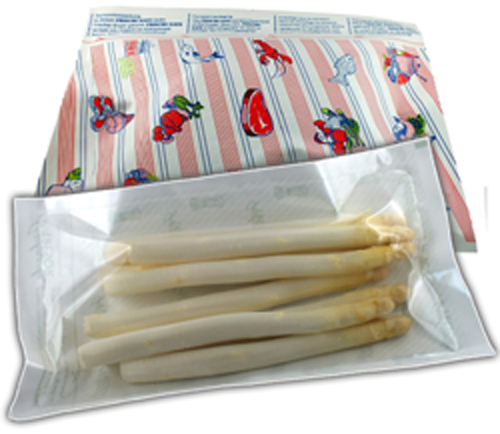 Benefit for the final customer


The customer receives sensitive fresh food and deli safely packaged for the way home. Perfectly insulated, odor-proof and waterproof, you and the customer can rely on FRISCHE-SAFE-WINDOW. Offer a new service to your customers: With FS-window fresh food is steamcooked in some minutes in the microwave.
Benefit for the environment


No burden of aluminum residues. Neither at the disposal site, nor during combustion pollutants remain..

Backside

Frontside

Specifikation tube on roll

FRISCHE-SAFE-WINDOW
Tube width:
350mm
Core inside:
50mm
Roll length:
150m
Roll diameter:
20cm
Standard-design (Backside):
DELI 3-color
EU-West: D/E/F/NL (PDF 1,4MB)
ArtNr: 83000

Privat label printed
up to 6 color printed
on request
FRISCHE-SAFE WINDOW is available as pre-fabricated bags also.
Mehr Info (PDF 1,3mb)
Subject to technical reasons changes.