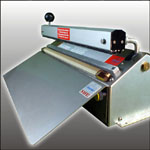 Zoom
Support-table


the helpful plane between sealing bar and storage area for the bag-closing. 20cm table holds the bag to be closed handy "on position". The storage table can be removed without tools by using of the practical round screws (for cleaning in example). The support table can also be ordered later as a mounting kit.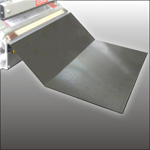 Zoom
Support-table, extra long


Longer packing sizes need space and support. The extra-long storage table leaves your hands free even to handle for bulky bags for sealing.
Of course, both support tables are completely made of stainless steel for professional use.